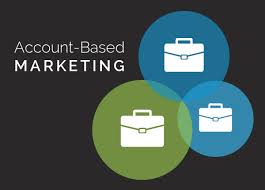 Is ABM a facade or the next big thing? Today most marketers are focusing on account based or vertical marketing so it's important to understand what ABM really is. Account based marketing, also known as vertical marketing, is a strategic approach to personalized marketing efforts specific to a vertical or prospects you wish to convert into customers.
B2M marketers that cast a wide net hoping to attract a prospect is a thing of the past. Marketers need to now identify their target accounts, build content specific for problems they wish to solve, and then position their offer. Is it tricky? Not really; marketers adopt ABM to identify key prospects and then tailor customized programs and messages for their sales team.
The process begins with creating a target account list of prospects who are likely to buy or likely to receive great value from your product. This list may be ranked in order of priority, urgency, or interest.
Let's simplify this with a few examples. As a marketer you're tasked to create demand for a cyber security product focused towards a health care and a finance market. You start this process by building a strategy–geography, company size, and narrow down on who you're targeting – business decision makers or technical decision makers. Once the strategy is crafted you then identify the collateral you'd like to  leverage and tailor it to the audience you're focusing on. In our example, we are focusing on healthcare and finance. For health care, your content can be focused on safeguarding patient medical records and you'll most likely target a technical decision making audience who may be responsible for protecting patient data from cyber criminals. For finance, your content could be focused on today's challenges consisting of data breaches and fraud. Content, landing pages, and sales enablement tools will all have to be vertically focused engaging prospects to acquire their trust and confidence in your ability to solve their and their customer's problems.
Vajre, co-founder and CMO of Terminus, recommends that marketers deliver content that is aligned to the buyer's stage, persona and channel. Great pieces of content include:
e-Books (for practitioners)
Webinars (for learners)
Infographics (for influencers)
Blog posts (for decision makers)
SlideShare (for thought leaders)
In essence, account-based marketing means you send prospects something they care about. Now go build your ABM strategy.