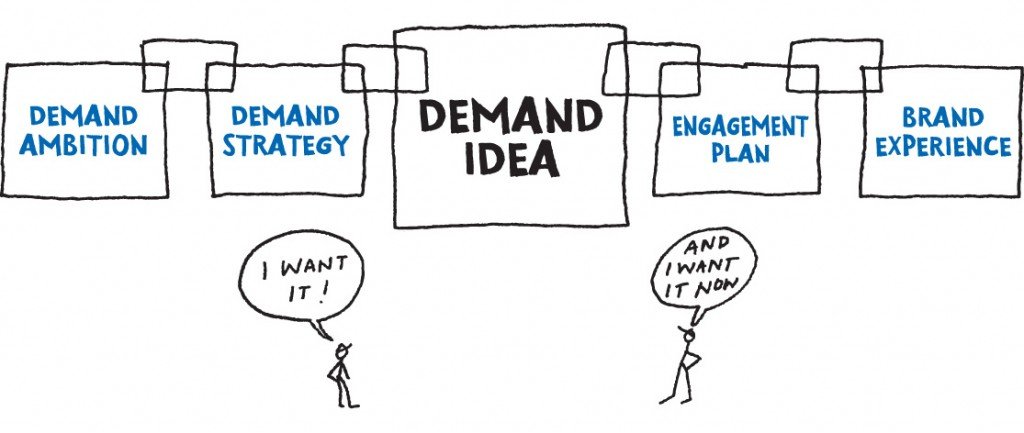 Let's spend a minute on the definition. "Demand" refers to the willingness and ability to purchase a product or a service. This has been controversial for marketers. Some marketers argue advertising supposedly creates demand. Other marketers disagree. Advertising tries to get a consumer's attention so that they know a product or service is available. This isn't creating demand; it's tapping into latent demand.
In practical business, I think this seems much more realistic. If you try to "create demand" you're likely to fail. An entrepreneur should identify market segments that are under-served. Two questions to answers are –
1. Who is going to use this product?
2. What need is it filling?
In the consumer marketplace, demand is created based on psychology.  A sense of need is developed.  Are you the last person to have the latest, most advanced, cutting edge technological gadget?  Does your iphone listen to your voice commands, give you directions while you drive, entertain your children?  And so on.
According to Ray Perry from Marketblazer.com – Demand Marketing is defined as getting your message in front of your target market at the point and time consumers are looking to buy.
As competition intensifies and growth expectations increase, businesses must consistently reach the right prospects through the right channels with the right message. In addition to creating demand, those target prospects must convert to sales leads, pipeline and revenue with some degree of predictability.
By delivering the right message to the right people at the right time, you can bank on an uptick in sales. Your message must be timely and relevant if it's going to hit the mark.
Using Demand Marketing methods, you demonstrate your understanding that in today's world the consumer is in control. You discover who they are, what they want, how they want it, and where they go looking for it. By responding to your customers' demands, you turn shoppers into loyal customers.
Demand Creation Methods –
Direct Mail:
Use direct mail to create demand for your products and services by reaching the right people with the right message – quickly and economically.
Email Marketing:
Create demand with the touch of a button. Use a low-cost marketing powerhouse to keep your business at the forefront of your customers' minds.
Webinars:
Expertise extends your reach and shortens the sales cycle – and webinars are the ultimate online platform to reach your customers wherever they are.
Pay-Per-Click Advertising:
Any budget, any business – day or night, your Pay-Per-Click ads work to drive highly-targeted traffic to your website.
Google AdWords:
For high ROI, flexibility, and laser-targeting, marketers turn to Google AdWords for website traffic on demand.
Internet Advertising:
Begin with a thorough analysis of your site and Internet advertising objectives, then implement the tools that will get the best results. From Facebook, twitter, Pinterest, podcasts to pop-ups, the power of Internet advertising is at your fingertips.