Affiliate Marketing is a mechanism of making money online where a publisher is rewarded for helping a business promote their product and/ or services. A publisher can be an individual that has a site (example this site where I post blogs) and allows advertising banners or text links be posted while I would receive a commission based on visitors clicking the banners or links.
This revenue sharing plan has grown since its inception and publishers have been rewarded a commission from conversions when a customer clicks the affiliate link and performs the desired action, such as make a purchase or opt-in for downloads or newsletters on the advertiser's site. Advertisers invest in affiliate programs for lead generations and converting prospects into customers.
How does this really work
According to Maria Snyder, conversions are tracked when a publisher uses a link with a code provided by the advertiser. This code is embedded into a banner or link that enables the advertiser to track where conversions come from (usually by cookies). Other times an advertiser might give a publisher a 'coupon code' for their readers to use that helps to track conversions.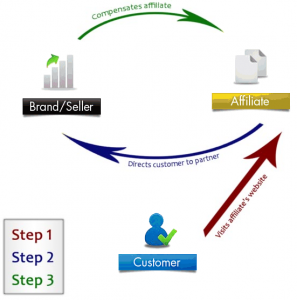 Different advertisers offer different types of affiliate programs. If you join a search engine affiliate program you will likely be placing text links or banners and get a commission through a pay-per-click fee. E-mail list affiliates promote e-mail newsletters and are usually paid when a person joins the advertised opt-in-email list. Being an affiliate of any merchant usually means you are paid a commission per sale on the advertiser's website. Generally speaking, pay-per-click affiliate programs pay the least amount, as affiliates are often paid per thousands clicks (CPC)
In conclusion
Knowing what ads to place and what revenue your website generates isn't rocket science. Once you join an affiliate program you should be able to choose products or banners you want to include on your site. Advertisers will send you a code this way you can insert on specific web page or throughout your website. This changes, however, when you select an ad revenue partnership, such as Google AdSense, for example where you have little or no control over the advertisement displayed. In joining the affiliate program, you will agree to their terms of service, called an affiliate agreement, which will tell you what requirements you must meet and how clicks are tracked.