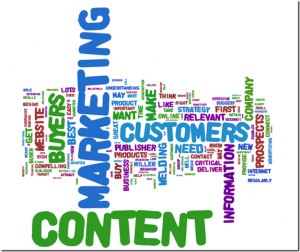 According to CMI,  Content Marketing is a technique of creating and distributing relevant content to attract and engage a target audience – with the objective of driving profitable action.
Smart marketers understand that traditional marketing is becoming less and less effective by the minute, and that there has to be a better way to communicate with potential customers. Consumers have simply shut off the traditional world of marketing. They skip television advertising, often ignore magazine advertising, and now have become proficient at online "surfing" that they can take in information without being interrupted by banners or buttons.
I believe marketers may use content marketing as a means of achieving a variety of business goals. One method is through lead generation. Lead generation is a marketing term and it refers to creating interest in a product or service so consumers can click on a impression or download an asset that creation of a prospect interested in a business product or service. Marketers build content that attracts consumers to click on a download to learn about a new product offer or a feature.
According to emarketer.com, businesses allocate approximately 26% of their total marketing budgets to content marketing initiatives. Listed below are a few ways marketers build content to attract consumers –
1 Webinars, Seminars & Podcasts
Perhaps the best way to demonstrate what you know is by actively participating in, hosting, or presenting live webinars, seminars and podcasts. The great thing about online webinars and podcasts is that they can be recorded, and then stored on your website, along with transcripts and copies of the slides.
Even if people don't attend your webinars or podcasts (podcasts are simply audio only seminars), you'll get bonus points for having them. People coming to your website will see the long list of available webinars and seminars, and automatically think that you must be extremely knowledgeable to offer up so much free information.
One smart approach is to pre-record your presentation without an audience. You can edit out the bad parts and keep the best. Then, offer the webinar "live" by re-playing the pre-recorded webinar without interruption and answering questions in the background as you go with a quality webinar tool (such as GoToWebinar). You can then complete the webinar with a Q&A session at the end.
2 Ebooks, White Papers and Special Reports
White papers are a long-time staple of tech companies. Whether or not anyone outside your company actually reads them is another matter. White papers are typically dry, unmemorable, and offer little more than technical data that's available almost anywhere.
If you're going to write white papers, why not add a little spice to them. Make them more personal, write in the first person, or have them written "by" a local expert in your company. Add a face to your white paper so that people can associate the expertise with a real person.
Special reports are like white papers, but less technical and geared more toward offering tips, ideas and suggestions. They're a great way to create trust and let people know that you or your company are experts in your field.
Ebooks can be longer versions of your reports and white papers. You can also assemble a series of articles into an Ebook, thus making use of content you've already created.
3 Social Networking
By now you should know what social networking is. But, how can you use social networking to demonstrate your value and worth to your clients?
Simply let people know about your webinars, reports, and articles through your social networks. Then, use the social networks as a means of engaging in longer conversations with your network on the topics you discuss in your other content pieces.
Rather than use social networking as a way to get more information "out there," try using it to engage with your clients on topics you're already discussing in other venues, such as your webinars or blog.
4 Articles
Articles are like this one – brief, to-the-point, and covering one specific idea. Ideally, articles are between 450 and 700 words.
The best way to get your voice heard is to post your articles on highly-visible industry websites and blogs. This isn't necessarily easy, but if you can have the articles come "from" (they can be ghost-written) a high-ranking person in your company, you'll stand a better chance of having them published.
5 Offline Presentations
This fifth method is a different, and also much more challenging for us introverts. It involves taking your knowledge public by presenting at industry events and conferences.
I've found it to be easier than expected to get on the agenda at a conference. They're always looking for quality presentations, so if you step up and offer something that's going to be of value to the audience, they'll usually bite.
Remember, content drives the Internet, and consumers are looking for information that solves a problem, not immediate sales pitches. The trust, credibility, and authority that content marketing creates knocks down sales resistance, all while providing a baseline introduction to the benefits of a particular product or service.