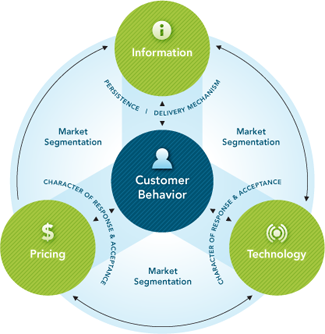 Consumer Behavior is classified in two different categories – want to have and/or need to have. Understanding the intelligence behind consumer behavior is a marketer's job, generating demand and connecting consumers with goods and services is essential. One category of consumers are individuals that need a product or service. These consumers wants to perform some type of action – such as making a purchase, getting data from a database, downloading a software, etc.
An example to further explain my analogy is when a consumer's car needs to be repaired, his choices are limited. The urgency to repair/ service his car is categorized as a need. He enters a specific query online and calls the first few on the list. The example I choose here is simple but it shows the need to have an online presence for retailer or a business providing service. Building/ maintaining a web presence is crucial as it differentiates businesses that want to market their products and services.
Plugging in the right analytics will help your site populate to the top of the search engine. Today the options are vast – A marketer's window of opportunity is when a consumer query's a search. The fulfillment and populating his site to the top of the search engine can be creatively managed by simply applying Adwords, PPC, SEO, etc.
This also applies to consumers that "want" a product or demand a service. An example here could be willingness to buy BMW. This automobile category is considered a "want". Here the approach is the same, a consumer queries and results are populated on his screen. How your site ranks depends on well you have built the analytics to populate it. Interest indicators are the most common of all the web-based analytics tools. A small program or script is added to the website to track user activity. The most basic tools can provide a summary of user country of origin, time accessed, browser used, total amount of time spent on the website, etc. More complex, commercial products can provide the exact Internet protocol (IP) address, the number of times the same person has visited the site within a specific time frame, where they went, and how long they spent on each page.
These days' consumers have access to information on their fingertips. With the advent of data phones, access to wifi networks, push and pull of data has immensely made our lives easier. As technology improves marketers will continue to collect and store large quantities of transactional data. This data will then profile behavior thus targeting consumers for products and services.