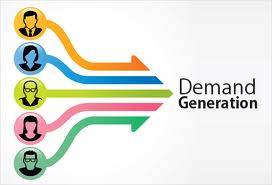 Demand Generation and Lead Generation are two most commonly used words in the B2B/ B2C space, especially when working with Marketing Automation, how do you differentiate between the two, when the end result of both is to increase sales for an organization?
A marketers' objectives is to create demand for their product or service. However, they don't "create" leads. Leads are "generated" from the demand that's created. Strategies such as branding thought leadership, PR, etc. help to create demand, while strategies such as direct response programs, SEO, etc. help to generate leads.
According to TechnicallyMarketing.com (a leading lead gen/ demand gen) site – While both employ efforts to the same goal: to covert prospects into paying customers, both are working within the realm of different tactics. Lead generation is the process of converting a single prospect into a sale and demand generation is the process of employing mass targeted campaigns to trigger the needs of large audiences. Demand Generation, on the other hand, involves marketing's effort to create demand. The ability to generate a mass amount of leads either through website traffic, social media, gated forms and landing pages or lists in an effort to get prospects into the sales funnel and then work to push them down to the closing stages.
A good source for demand generation is syndicating content, webinars or events. Here a company can reach a large amount of prospects, get their contact information and start employing marketing campaigns and activities in order to engage with prospects.
Your Turn
Do you put demand generation or lead generation first? Or do you effectively combine both in a single step? Share your experience or perspective in the comments below or with me on Twitter @go2markets